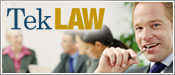 Tek

LAW

frees your valuable time.
TekLAW software allows you to view many aspects of a case profile easily to protect yourself from potential malpractice. The following tasks are handled by the system, making your job easier:
Track cases with a detailed calendar that creates alerts for key dates, daily task lists, assigns tasks to multiple employees and tracks status of tasks. Never miss another deadline.
Integrate your firm's documents by taking MS Word documents and labels, and merging with TekLAW.
Store comments and notes, plus categorize them for effective case summaries.
Create and send interoffice messages through the system, stored with each case.
Improve cash flow by using notes to generate invoices and track a case's financial status including accounts receivables through the system.
Sync with MS Outlook and your PDA contacts and calendar. Email one or all your clients directly through the system.
File judgment documents directly through TekLAW and save to each case.
Record time spent on the phone directly to each case file with the click of a button.
Organize client intake questions to suit your needs and generate MS Word documents from the answers.
Still need more features? TekLAW is customizable!
Add your own wording, drop down lists and other forms you may need to ensure the practice management system meets your firm's specific needs.